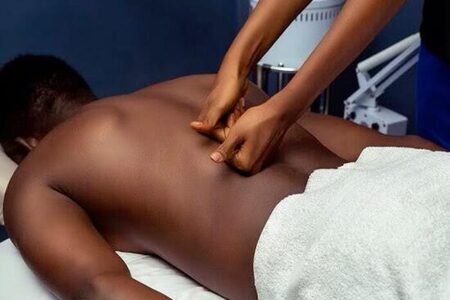 Nairobi CBD and its outskirts boast thousands of beautiful ladies, including chocolate beauties and light-skinned babes ready to make your sexual fantasies a reality. Some of these sexy ladies work as masseuses and/or escort girls in massage parlours and spas in Nairobi. Below we light some of the best adult massage parlours in Nairobi.
1. Sexy Angels SPA (Eastern Bypass)
One of the best happy-ending massage spas with sexy escorts is located on Lumumba Drive. Here you get a very discreet and professional service. Feel free to book for longer sessions to ensure that you do not miss out on what we have to offer.
Some of the services you can ask for include erotic massages, arousal massage, body-to-body massage, sex, blow jobs, threesomes, double couples, lesbian shows and even BDSM. As you can already tell nothing is off the table so let your inner kinky run wild!
Booking Information
Location: Lumumba Drive
Contact Information: 0786888743
Services: Erotic Massage & Sex, Lesbian Shows, Domination, Threesomes, BlowJob.
2. Queen's SPA (TRM DRIVE)
Queen's SPA continuously provides outstanding erotic services that are top-of-the-class and very discreet. The SPA always has plenty of beautiful and gorgeous escorts ready for you. You can expect to find various services offered to include: Body to Body Massage, Full Body Massage, Erotic Massage and even extras.
Our girls will charge you affordable prices depending on the time that the session will take. You need to take advantage of this time to live your wildest fantasies. Be assured that time and money spent at Queen's SPA along TRM DRIVE is always worth it.
Booking Information
Location: TRM DRIVE
Contact Information:0757952160
Services: Massages & Extras, Lesbian Shows, Domination, Ass Rimming, Anal, Raw BJ
3. Barbra Massage SPA
Are you a traveller who has just landed in Nairobi County and specifically around Nairobi CBD? Welcome to Barbra Massage SPA, the home of sexy angels ready to relax and cater for your needs. You must be feeling jet-lagged or tired from flying or driving for long hours. Barbra Massage SPA escorts have very soft hands and nipples that caress you arousing your innermost desires.
For an additional cost, you can book other extras like BDSM, anal fucking, couple double treats, threesomes and orgies from our gay, trans, lesbian and bi lovers. To get in touch with Barbra Massage SPA for an unforgettable time, please use the contact information below.
Booking Information
Location: Nairobi CBD
Contact Information:0722713235
Services: Anal Sex, Erotic Massage, Threesome & Group Sex, Bj, Handjob & Boob Fuck, Domination & BDSM
4. Elite Massage SPA
Welcome to Elite Massage SPA. We are an erotic massage and SPA centre along Ngong Road. Our escorts are professional in providing adult entertainment for gentlemen in Nairobi City. Booking in advance is always allowed as well as walk-ins.
At Elite Massage SPA, you can get a haircut from your favourite barber and later book extras from our sexy girls. Other services given include Erotic Massages, erotic happy-ending massages, Nuru Massages, Prostate massages and more. It is also possible to get in-calls and outcalls to your homes or hotels.
Booking Information
Location: Ngong Road
Contact Information:0720234329
Services: Barbers Massage and Steam Bath Experience
5. Heavenly Bliss SPA
Heavenly Bliss SPA offers nothing but professional erotic services and value for your money in the Kilimani and Lavington estates. If you are looking for genuine escorts who are very discreet, then you just came to the right place.
Heavenly Bliss SPA has a vigorous vetting process of hiring masseuses because we take your security and privacy very seriously. These beautiful girls are from different ethnicities and ready to bring you the best pleasure. To book a session with your favourite escort, you have to use the contact details provided below. We promise to take good care of your body and wholesome self.
Booking Information
Location: Kilimani/ Lavington
Contact Information:0769958109
Services: Best Massage & SPA Services
6. Sexy Divas SPA
Experience the art of touch from qualified masseuses in Kikuyu Town at the Sexy Divas SPA. We always strive to provide you with quality erotic services that are not limited to Sensual Massage, Erotic Massage, Arousal Massage, Nuru Massage, Swedish Massage and Prostate Massage. You can also request an Incall or Outcall masseuse depending on what you feel is convenient for you.
Our Sexy Divas escorts are genuine and legit therefore have no worries, relax and enjoy yourself. Over the number of years, we have perfected delivering exactly what is expected by the gentlemen who visit us. Break your normal routine and visit Sexy Divas SPA in Kikuyu for sensual excitement.
Booking Information
Location: Kikuyu
Contact Information: +254775022006
Services: Best Massage & Spa in Kikuyu, Massage, Sex, Live Shows.
7. Juicy House SPA
Juicy House SPA gives a range of adult entertainment, happy-ending massages, extras and SPA treatments along Lumumba Drive, Roysambu. Choose from Erotic, Arousal, Body to Body, Swedish, Nuru, Full Body and Skin to Skin Massages. Juicy House SPA escorts are always good at putting your nerves at ease in a very serene and relaxed environment. We specialize in easing your tense and tired muscles with therapeutic solutions.
Whether you are located in Kamiti Road, Mirema, Thika Road or TRM our Juicy House SPA outcall escorts can attend to you from the comfort of your home or hotel. By now you should be eager to review your schedule to find the best time to contact us for a booking. Remember that we work 7 days a week including on holidays and on short notice!
Booking Information
Location: Lumumba Drive, Roysambu
Contact Information: 0795971225
Services: Erotic Massage, Threesome, Ass Rimming, Anal Sex, Lesbian shows (Incalls & Home calls Available)
8. Kutombana SPA
For outstanding erotic massages visit Kutombana SPA along Thika Road, Lumumba Drive and book a massage. You will get therapy and massage in very relaxed environments. We provide adult entertainment not limited to nude massages, intimate massages, body-to-body massages and prostate massages to gentlemen. Our masseuses will combine internal and external practices to improve your sexuality.
Kutombana SPA is well known for having the best couple massages and threesomes. You can find our sex girls to be very open-minded and adventurous in the sessions. You need not be shy but embrace adoration from two or more escorts at your request. You can also try a Nuru massage which will not only relax your muscles but hydrate your skin as well.
Booking Information
Location: Thika Road, Lumumba Drive
Contact Information: 0795971225
Services: Massage, Blow Job, Boob Job, Threesome
9. Prime Care Barbers
Prime Care Barbers use only the most quality products during your massage and hair cuts. We always have a team of therapy masseuses on standby to attend to you. Prime Care Barbers are professionals in the art of arousal and erotic massages. We only hire the best-trained and highly experienced professionals.
You can also ask for outcalls where our call girls can visit you at home or a hotel. One of the things that will keep you coming back to Prime Care Barbers is the memorable Steam Bath experience that will relax you very well. For an extra fee, you can request extras from our escorts with sensual and intimate touches.
Booking Information
Location: Ngong Road
Contact Information: 0756895583
Services: Massage, Steam Bath Experience, Tattoo, Facial/Manicure
In case you prefer to find escorts from online directories, you can check these leading escorts websites in Kenya.